At Raidhoo, we are a group of enthusiastic people with extensive background in motor vehicle and camper business. Ourselves being passionate about camping and outdoor activities, we are looking into new ways to experience and enjoy the outdoors keeping in mind today's challenges and needs.
Pandemic, climate change, war, and energy crisis. The world is constantly changing, and during the last years, it has changed more than ever, which affects the economy and also people's travel habits. Our small contribution in all of this is to develop flexible and sustainable products with a focus on minimalism, energy efficiency, and durability.
Our goal is to offer high-quality and flexible camping trailers that contribute to unique experiences and memories for everyone who loves outdoor life and nature. At the same time, we want to be responsible, through sustainable solutions where you can explore the world in an environmentally friendly way.
Our mini-caravans, tailored to Nordic conditions and travel habits, are designed to allow you to safely embark on new adventures with comfort, flexibility, and style. 
Born in the Nordic climate
Raidhoo is a family of compact camping trailers that is designed to perform in the Nordic climate - regardless of the season.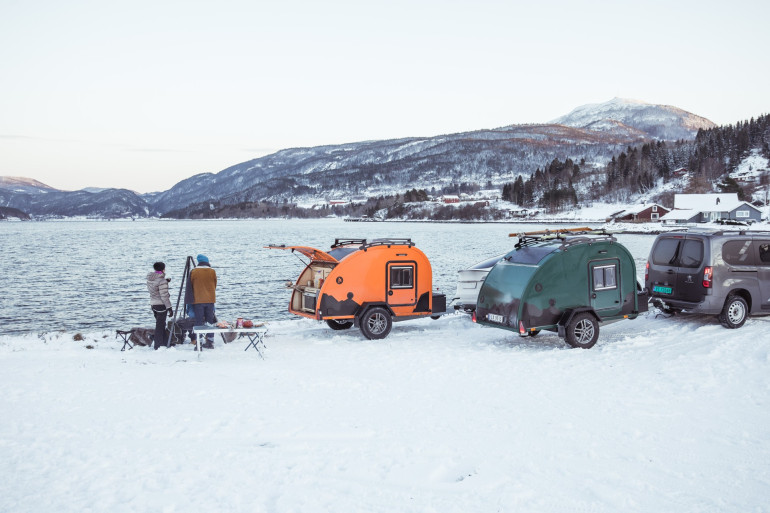 The Raidhoo mini-caravans are year-round travel companions to ensure comfort regardless of the weather:
The well insulated cabin is warm and cozy when it is cold, while preventing overheating on hot summer days.
The cabin is protected by a one-piece seamless fiberglass shell that is totally waterproof and will never leak. 
Doors on both sides, sliding windows, a roof window with forced ventilation, and insulated walls are standard equipment that contribute to high comfort regardless of the outdoor temperature.
We have a strong focus on compact and functional design, and the Raidhoo mini-caravans come with many smart solutions that provide optimal space utilization. The interior has plenty of storage space, with foldable modules that provide great flexibility. Raidhoo mini-caravans consist of components of the highest quality from reputable suppliers. We use robust and durable materials that require little maintenance and that are easy to repair or replace.
Built for a sustainable future
With the climate and energy challenges facing the world, we want to inspire a more sustainable camping experience by developing environmentally friendly products.
The teardrop-shaped Raidhoo mini-caravans are truly minimalist, and are one of the market's most aerodynamic trailers with low air resistance. This provides an energy-efficient trip with a low carbon footprint. The campers have solar panels integrated into the roof, which produce renewable energy and make you self-sufficient with power on the trip.
The interior of Raidhoo trailers is made of Arctic birch, and for every unit we produce, we plant a new birch tree. We want to inspire more environmentally friendly and sustainable camping with responsible consumption.
Raidhoo offers an effortless, comfortable, and environmentally friendly camping experience.
With our camping trailers, you can explore the world without limitations. Experience new destinations in Norway or abroad in a compact trailer that is tough enough for any terrain, and smooth on a higway.
Raidhoo is created to give you new memories for life.